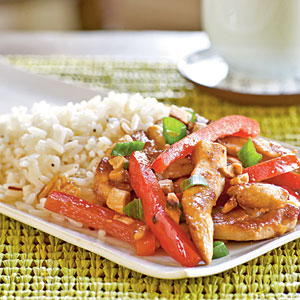 Prep Time: 15 minutes.
Cook time: 15 minutes
Serves: 4
Description Edit
An easy dish that can be made quickly after work, this stir fry has a ton of flavor and most people like these ingredients so it's a crowd pleaser. Plus, I use low-sodium soy and just a bit of honey so it's a pretty healthy, quick dinner.
Ingredients Edit
Directions Edit
Heat garlic in olive oil for a minute or so.
Stir fry the chicken.
Remove chicken from pan, cook veggies.
Add chicken back in and season with soy sauce and honey to taste! Yum.