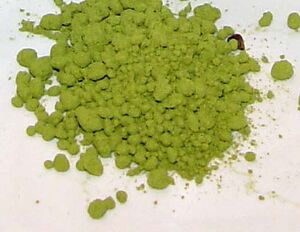 A brilliant green powdered tea served in the Japanese tea ceremony. Matcha, also called hiki-cha, it's unique in two aspects of farming and storage: green tea plants for matcha are grown in shade for three to four weeks prior to harvesting, and during processing the stems and veins are cut. Camellia sinensis plant produces more theanine and caffeine during shaded growth. Matcha's powdered form is eaten separately from tea leaves or tea bags and is suspended in a liquid, normally water or milk. Matcha has been used in modern times to taste and dye foods like mochi and soba noodles, green tea ice cream, matcha lattes, and a variety of Japanese wagashi cakes. Matcha used in ceremonies is called ceremonial level, which means that the powder is of sufficiently high quality to be used in the tea ceremony. Matcha of lower quality is referred to as culinary grade, but there are no standard definitions or requirements for either industry. Matcha blends are given poetic names called chamei. (Either by the manufacturer of the plantation, the shop or the maker of the blend, or by the grand master of a particular tea tradition.) When a blend is called by the grand master of the lineage of the tea ceremony, it becomes known as the konomi master.
Community content is available under
CC-BY-SA
unless otherwise noted.