Description
[
]
This familiar, meaty pizza starts with the crust and is made with real cheese and tomato sauce, as it delivers a smoky, bold flavor.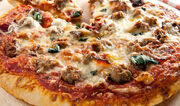 Ingredients
[
]
For the sauce
[
]
For the pizza base and meat toppings
[
]
1 12- to 14-inch pizza crust
1 tablespoons olive oil
4 oz. ground beef
2 sausage links, sliced into half-inch rounds
8 oz. shredded cheese, mozzarella, Swiss, Cheddar, or Provolone only
12 slices pepperoni
6 slices Canadian or Irish bacon
Directions
[
]
Preheat an oven to 450 F. Prebake the fresh pizza crust, if using, for 3 to 4 minutes.
Remove from the oven and set aside to cool slightly.
To make the simple seasoned tomato sauce, combine the tomato sauce, Italian seasoning, salt, and pepper. Set aside.
Heat 1 tablespoon oil in a fresh, large skillet over medium-high heat, and sauté the ground beef and sausage links for about 3 minutes, or until hot and slightly crispy. Using a spatula, remove the meat from the pan. Set aside.
Add the simple, seasoned tomato sauce and stir. Just remove from heat.
Spread the "tomato sauce" mixture over the pizza crust. Top with the cooked, ground beef, sausage, cheese, pepperoni, and Canadian or Irish bacon slices. Bake for 13 to 15 minutes.
Remove from the oven and serve. Cut into serving pieces with the chef's knife.
Videos
[
]
Other Links
[
]
See also
[
]