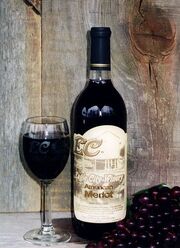 About Merlot
Edit
Wikipedia Article About Merlot on Wikipedia
Merlot is a variety of wine grape used to create a popular red wine. Merlot-based wines usually have medium body with hints of berry, plum, and currant.
Most connoisseurs consider it "easy to drink" when compared to other red wines, particularly its traditional blending partner Cabernet Sauvignon. Its softness and "fleshiness", combined with its earlier ripening, makes Merlot an ideal grape to blend with the sterner, later-ripening Cabernet. Many Merlots are made in a style popular with newer red wine drinkers (though good Merlots accompanying appropriate food are popular with many more experienced wine drinkers as well).
Merlot is produced primarily in France and California, and on a lesser scale in Australia, Italy, New Zealand, South Africa, Switzerland, Croatia, Slovenia, and other parts of the United States. (Merlot from the state of Washington has been gaining recognition, and a small quantity of high-quality wine from this grape is now being produced on the eastern end of Long Island, New York.) Most wines from Bordeaux contain at least some Merlot, and in the regions of Pomerol and Saint-Emilion it is not unusual for Merlot to comprise the majority of the blend. One of the most famous and rare wines in the world, Château Pétrus is almost all Merlot.
White Merlot is made the same way as its more famous cousin, White Zinfandel. The grapes are crushed, and after very brief or even no skin contact, the resulting pink "must" ferments. Some producers of White Merlot include Sutter Home, Forest Glen, and Beringer. It normally has a hint of raspberry flavor. White Merlot was reputedly first marketed in the late 1990s.
Community content is available under
CC-BY-SA
unless otherwise noted.