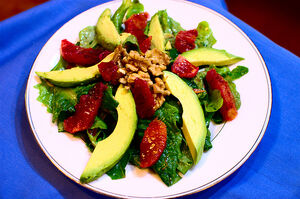 Description
Edit
The mix of gourmet salad greens called mesclun may include oakleaf lettuce, arugula (rocket), frisee, mizuna, mache, radicchio and sorrel. Here, it's brightened with the red flesh of blood oranges.
Ingredients
Edit
Directions
Edit
Working with 1 orange at a time, cut a thin slice off the top and the bottom, exposing the flesh.
Stand the orange upright and, using a sharp knife, thickly cut off the peel, following the contour of the fruit and removing all the white pith and membrane.
Holding the orange over a small bowl, carefully cut along both sides of each section to free it from the membrane.
As you work, discard any seeds and let the sections and any juice fall into the bowl.
Repeat with the second orange.
When both oranges are sectioned, squeeze the membranes into the bowl to extract all of the juice.
To make the vinaigrette, in a small bowl, whisk together 2 tablespoons of the captured blood orange juice, the vinegar and the mustard.
While whisking, slowly add the olive oil in a thin stream until emulsified.
Whisk in the salt and pepper.
Reserve any remaining orange juice for another use.
In a large bowl, combine the mesclun, radishes and orange sections.
Pour the vinaigrette over the salad and toss gently to mix well and coat evenly.
To serve, divide the salad among individual plates.
Top each portion with slices of avocado and sprinkle with the cheese.
Nutritional information
Edit
Per serving:
105 Calories | 3g Monounsaturated fat | 3g Protein | 2mg Cholesterol | 14g Carbs | 4g Fiber | 170mg Sodium | 5g Total fat | 1g Saturated fat
Mayo Clinic Healthy Weight Pyramid Servings: 1 Vegetables | 1 Fruits | 1 Fats
Diabetes Meal Plan Exchange: 1 Fruits | 1 Non-starchy vegetables | 1 Fats
Dash Eating Plan Servings: 1 Vegetables | 1 Fruits | 1 Fats and oils
Community content is available under
CC-BY-SA
unless otherwise noted.