Description
[
]
The perfect way to start the day - a big Mexican take on bread, salsa, and real cheese is great for appetizers or side dishes and is toasted to golden perfection.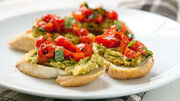 Ingredients
[
]
1 cup salsa
french bread or baguette
1 cup cheese (Cheddar, American, Colby, or Monterey Jack only)
fresh cilantro
Directions
[
]
Lightly toast sliced French bread in a broiler.
Top with shredded cheese. Broil until melted.
Top with salsa and cilantro leaves. Serve hot and plain.
Videos
[
]
Contributed by:
[
]