Description
This tasty sauce is good for many toppings.
Milk-Free Butterscotch from Recipes for Better Nutrition During Cancer Treatment by the National Cancer Institute, public domain government resource—original source of recipe
Ingredients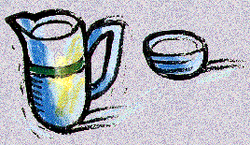 Directions
Mix brown sugar and cornstarch in small saucepan.
Slowly add nondairy creamer and water, stirring until cornstarch dissolves.
Add honey and margarine.
Cook over medium heat, stirring constantly, until sauce is thickened and comes to a boil.
Remove from heat.
Add vanilla.
Cook and store in a covered container in refrigerator.
Variation
For milk-free chocolate sauce, stir in 1 heaping tbsp. cocoa with cornstarch. If too thick, add a little water after it comes to a boil.
Community content is available under
CC-BY-SA
unless otherwise noted.