Description
Edit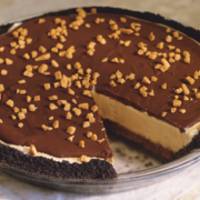 There was (note the word was, unfortunately) a Cajun restaurant here. We went there very often and got friendly with the owner/cook. When they decided to go into another business I managed to get his Mississippi Mud Pie recipe. Had eaten it there so many times he probably felt sorry for me not to be able to taste it again. I love it! In the midst of all the "Mud" pies here I still hope you'll want to try it.
Ingredients
Edit
Crumb crust base
Edit
Directions
Edit
Preheat the oven to 375°F.
Lightly grease an 8-inch spring-form.
Mix together the crushed digestive biscuits, the melted butter and the sugar and spoon into the prepared tin.
Level the biscuit mixture out evenly, using the back of a metal spoon.
For the filling, measure the chocolate, butter, instant coffee and water into a large pan and heat gently until the butter and chocolate have melted.
Remove from the heat, and beat in the cream, sugar and eggs and then pour the mixture on to the biscuit crust.
Bake in the preheated oven for 1¼ hours until the filling is set.
Allow to cool before removing the tin.
Serve with whipped cream.
Community content is available under
CC-BY-SA
unless otherwise noted.