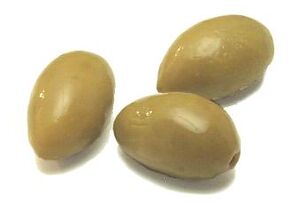 About Moroccan green olive
Edit
Olives are species of small trees in the family oleaceae (which produce oil), with origins in the warm areas on the Mediterranean Sea. There are 5 important types of olives, which belong to distinctive parts of the world and the Morocco olives are one of these: olea europaea from Europe, olea cuspiada from Iran to china, olea guanchica in the Canaries, olea laperrinei in Algeria, Sudan and Nigeria and olea maroccana. The Moroccan olives are small in size, marinated in salt and brine with various spices, like bay leaf, cinnamon, cumin, garlic, ginger, hot pepper or cumin. Due to this curing, the Moroccan olives have various tastes, that range from sweet to bitter and sour, but also hot and spicy – due to this fact, they can be included in various meals.
The Moroccan olives are served both simple, as a snack, in alcoholic drinks or they are integrated in various veggie or green salads. A very popular way of consuming the Moroccan olives is by stuffing them with red bell pepper, by removing the pip.
Some of the types of olives may include Castillian, Picholine, and Sevillanos.
Community content is available under
CC-BY-SA
unless otherwise noted.