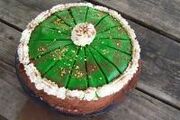 Ingredients
Edit
Cake batter
Edit
Chocolate ganache filling
Edit
Decorations
Edit
Directions
Edit
Beat egg whites until stiff but not dry, adding granulated sugar.
Next, mix in the egg yolks one at a time, just enough to combine.
Sift together flour, baking powder, and cornstarch; gradually and gently fold into the egg mixture to combine - be careful not to deflate the egg whites by over-mixing.
Line a large nonstick spring-form pan with parchment paper and fill with the batter.
Bake in a preheated oven at 350 °F (175 °C or gas mark 2) for 30 minutes - it will only rise up partway.
Let cool completely.
Meanwhile, heat ½ cup of the cream in a small pan over medium-low heat, then stir in the milk chocolate until it melts and is smooth.
Remove pan from heat and let cool for 1 hour at room temperature.
Finely grate the bittersweet chocolate using a microplane grater and divide into two portions.
Beat 1½ cups of the cream until stiff peaks form.
Stir chopped nuts and half (one portion) of the grated chocolate gently into the cooled melted chocolate mixture.
Gently fold together the whipped cream and the cooled melted chocolate mixture until just combined.
Remove ring from spring-form pan and carefully slice the cake into three even (very thin) layers using a large serrated knife.
Place one cake layer on a large plate, spread with ⅓ of the chocolate ganache, then top with another cake layer, another layer of ⅓ of the ganache, followed by another cake layer.
Spread the remaining chocolate ganache mixture all over the top and sides of the cake.
Chill for 2 hours.
Knead the marzipan(with enough powdered sugar to make it sweet if unsweetened) until well blended.
Place marzipan between two sheets of wax paper and roll out into very flat circle, about the size of your spring-form pan.
Set a plate on top of the marzipan and use the plate as a guide to cut out a perfect circle; then cut circle into 16 triangles.
Set the marzipan triangles in a spiral around the top of the chilled cake, pressing down slightly so they stick - there should be very narrow gaps between each triangle - if desired, curl up the pointy tips decoratively first.
Coat the sides of the cake with some the remaining grated chocolate.
Community content is available under
CC-BY-SA
unless otherwise noted.