Description
[
]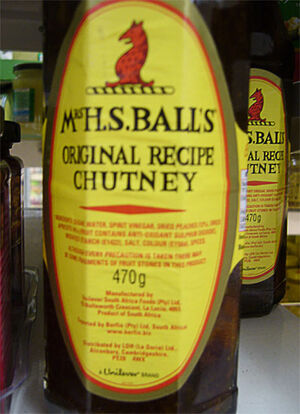 Peach and apricot chutney. Mrs. Ball started making the chutney after she moved to Johannesburg with her husband and seven children. Her friends and family loved it so much that the business started blossoming on its own. The demand increased; Mrs Ball cooked and her husband bottled.
Home Industries started selling her chutney and by 1918 she sold about 24 bottles a day, which in the years to come grew to 8 000 bottles a day.
In 1921 the Ball family moved to Cape Town. After living in Kalk Bay and Diepriver they settled in Plumstead (where her husband took over the chutney cooking).
He died in 1935 and she moved to Fish Hoek where she continued to make chutney in her backyard with the help of her grandson, "Uncle Bob". The business was later moved to Woodstock with twelve new workers.
In 1957/58 Mrs Ball's chutney was exported to England for the first time.
In the early seventies, Brooke Bond Oxo bought over the business, which was later sold to Unifoods. Still owned by them today, Mrs. Ball's chutney is being made in Johannesburg and exported to Germany, Britain, New Zealand and Australia.
Mrs. Ball died on 20 November 1962 at the age of 97. Uncle Bob believes she would have lived to see 100 if she wasn't attacked a few years earlier. Apparently three youths assaulted her for a small purse of money while she was sitting on the stoep of her house in Fish Hoek. They threw her to the ground, and, unable to get up by herself, she was found lying there sometime later.
Ingredients
[
]
Directions
[
]
Soak the dried fruit in 2 litres of the vinegar overnight, then cook all until soft,.
Remove fruit and mince or food process the fruit.
Place left over soaking and the further 1 litre of vinegar and fruit in a pot.
Add sugar and grated onions and spices.
Add more vinegar if too thick (it should not be too runny or too thick).
Cook for 1 – 2 hours, stirring occasionally to prevent it 'catching' on the bottom.
Pour into sterilised jars and seal.