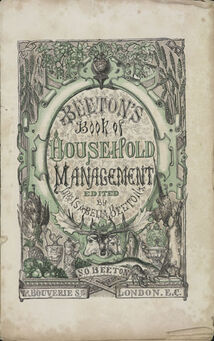 Description
Edit
Mrs Beeton's Book of Household Management was edited by Isabella Beeton and was first published as a book in 1861 by S. O. Beeton Publishing, 161 Bouverie Street, London, a firm founded by her husband, Samuel Orchart Beeton. It had been previously published as a part work. It was a guide to all aspects of running a household in Victorian Britain. It was originally entitled "Beeton's Book of Household Management", in line with the other guide-books published by Beeton.
Of the 1,112 pages, over 900 contained recipes, such that another popular name for the volume is Mrs Beeton's Cookbook. Most of the recipes were illustrated with coloured engravings, and it was the first book to show recipes in a format that is still used today, i.e. with all the ingredients listed at the start. It is said that many of the recipes were copied from earlier writers (including Eliza Acton), but the Beetons never claimed that the book's contents were original. Mrs Beeton is perhaps described better as its compiler and editor than as its author, many of the passages clearly being not her own words.
It was intended as a guide of reliable information about every aspect of running a house for the aspirant middle classes. In addition to cooking, its 2,751 entries include tips on how to deal with servants' pay and children's health, and above all a wealth of cooking advice, instructions and recipes. It was an immediate best-seller, selling 60,000 copies in its first year and totalling nearly two million up to 1868. In 1863, a revised edition was issued in installments.
The author, Isabella Beeton, was 21 years old when she started working on the book, and she died at 28. In 1866, a year after Isabella's death, Samuel was forced to give up the copyright on all his publications due to the collapse of Overend and Gurney, a London discount house to which he was in debt. To save himself from bankruptcy he sold the copyright to publisher Ward, Lock and Tyler for £3,250, though he continued to run it. Ward Lock's revisions to Household Management have continued to the present day and kept the Beeton name in the public eye for over 125 years, although current editions are far removed from Isabella's original work.
The book gives a charming and historically significant insight into Victorian domestic management. Although it is not a modern book, many people in Britain own a copy as it has been frequently reprinted and is available to this day. The name "Mrs Beeton" still has iconic status in Britain: most people recognize it and know its connotations, although very few have actually come into contact with the book itself. The phrase "first, catch your hare", while popularly thought to originate here, was already proverbial when the book was written.
Today's superstar chefs (especially Delia Smith) might be seen as the direct descendants of Mrs Beeton, who saw as they did the need to provide reassuring advice on culinary matters for the British middle classes, the Industrial Revolution having sealed the demise of traditional rural cooking skills.
Its preface begins:
I must frankly own, that if I had known, beforehand, that this book would have cost me the labour which it has, I should never have been courageous enough to commence it. What moved me, in the first instance, to attempt a work like this, was the discomfort and suffering which I had seen brought upon men and women by household mismanagement. I have always thought that there is no more fruitful source of family discontent than a housewife's badly-cooked dinners and untidy ways.
Avalable from Project Gutenberg:
Edit
Community content is available under
CC-BY-SA
unless otherwise noted.