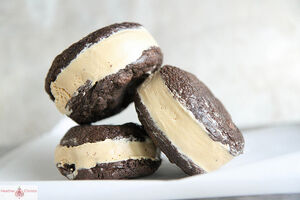 Description
Edit
Ingredients
Edit
Directions
Edit
Drop six 1?2-cup mounds of ice cream onto waxed paper–lined baking sheet.
Using metal spatula, shape each mound into 3- to 3 1?2-inch square. Freeze squares while preparing dough.
Add to butter mixture and beat until soft dough forms. Gather dough into ball; flatten into rectangle.
Roll out dough between 2 sheets of waxed paper to 13 x 10-inch rectangle.
Place dough, still between waxed paper sheets, on baking sheet.
Chill until firm, at least 1 hour and up to 1 day.
Preheat oven to 300 °F. Line large baking sheet with parchment paper.
Peel top sheet of waxed paper off dough; discard.
Trim dough to 12 x 9-inch rectangle; then cut dough into twelve 3-inch squares.
Transfer squares to parchment-lined baking sheet, discarding waxed paper and spacing them about 1 inch apart.
Bake until cookies are firm, about 20 minutes. Cool cookies completely on baking sheet.
Arrange 6 cookies, flat side up, on work surface.
Top each with frozen ice cream square, then another cookie, flat side down, pressing slightly to adhere.
Cover and freeze sandwiches until ready to serve. ice cream sandwiches can be made up to 4 days ahead.
Store, wrapped in plastic, in the freezer.
See also
Edit
Community content is available under
CC-BY-SA
unless otherwise noted.