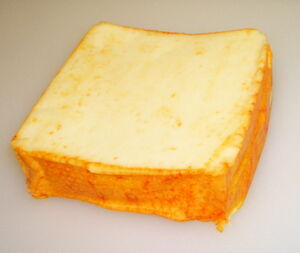 Name Variations
Edit
About Muenster
Edit
Wikipedia Article About Muenster on Wikipedia
Munster Fermier is a cheese that comes from the Alsace region in France dating back to approximately the seventh century. This cheese is protected by an Appellation d'Origine Contrôlée. It is made from unpasteurized cow's milk and is matured in damp caves for five weeks for the smaller formats (300g) and up to 2 to 3 months for the larger ones (1500g). During this period the rind is periodically washed with brine. The added moisture helps the development of bacteria that gives this cheese its particular taste and color. The cheese is at its best in the summer and the autumn, when it is made from milk from the haute chaumes ("high stubble") of pastures that have already been mown for midsummer hay in the Vosges mountains. The best cheeses come from the haute vallée de Munster itself, but this cheese is also made in Lapoutroie, Sainte-Marie-aux-Mines, Villé, and other villages. It's called munster géromé when it comes from the Gérardmer Valley, in western Vosges, in Lorraine.
This round cheese with a fat content of 45% in dry matter, has a diameter between 12 and 20 cm, and a thickness between 3 and 5 cm. Normally it is sold unwrapped on a straw bed, but for export it may be wrapped in cellophane or clear plastic. The cheese should have a slick and shiny brick-coloured rind, a semi-soft body, a very strong and penetrating odour, and a really strong taste. Defects: unripend body (crumbly), broken rind, too salty or too old and overdone.
A semi-soft cheese produced in North America from pasteurized cow's milk that may, at times be confused with the European Munster cheese. The domestic Muenster has a yellow-orange rind similar to the Munster rind, but unlike the French and German variety, which is yellow colored and tangy flavored, it is ivory white in color and has a mild light flavor. This cheese is served as an appetizer, as a complement to baked potatoes or dark bread, and as a cheese to use with grilled foods. It can be frozen to keep for extended periods of time or simply kept refrigerated. Beverages that go well with this cheese are beer, Gewurztraminer wine, or full-bodied red wines.
Community content is available under
CC-BY-SA
unless otherwise noted.