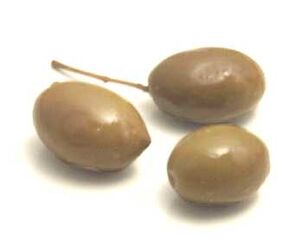 About Nafplion green olive
Edit
Olives have been some of the staple aliments in many cuisines since the ancient times. Olives were used especially for their fat and oily content, which helped for producing very delicate and tasty oil, used both in cosmetic treatments and in culinary recipes. The wide range of olives and complexity of this aliment has made olives very popular and consumed, as there are various species and ways of preparing this fruit. The Nafplion olives come from Greece – actually, they are named after a town which is found on the seacoast and which is famous for its exotic places and nature. The Nafplion olive is rather small and has a nutty flavor.
The Nafplion olives are used in Greek specialties, including cold appetizers, as topping for warm main courses and as salads or in garnishes. Sometimes, these kinds of olives are used simply for decorating salads and various meals. Sometimes, they are part of the local kebabs, besides chicken, lettuce and mayo. There is also the famous Nafplion olive oil, with is very refined and delicate and used for many salads.
Community content is available under
CC-BY-SA
unless otherwise noted.