Description
Edit
kim chee is a pickled salad/condiment type food served at virtually every Korean meal. It is often compared to saurkraut. It can be made not only with nappa cabbage, but with types of radishes, greens, or cucumbers. It is salty, (spicy) hot, temperately cold, garlicky and tangy.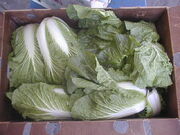 Ingredients
Edit
Equipment
Edit
A new pair of latex gloves are handy for handling hot pepper mixture.
A large bowl for soaking the cabbage in brine solution.
Large glass containers to put the finished kim chee into.
Especially handy for large batches is a food processor and/or a contraption for shredding vegetables into julienne strips.
Directions
Edit
Community content is available under
CC-BY-SA
unless otherwise noted.