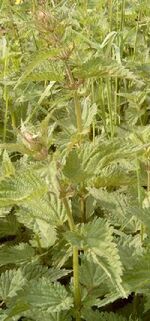 Name Variations
Edit
nettle leaves
stinging nettle
About nettles
Edit
Wikipedia Article About Nettle on Wikipedia
Nettle is the common name for any of between 30-45 species of flowering plants of the genus Urtica in the family Urticaceae, with a cosmopolitan though mainly temperate distribution. They are mostly herbaceous perennial plants, but some are annual and a few are shrubby.
The most prominent member of the genus is the stinging nettle Urtica dioica, native to Europe, north Africa, Asia, and North America. The genus also contains a number of other species with similar properties, listed below. However, a large number of species names that will be encountered in this genus in the older literature (about 100 species have been described) are now recognised as synonyms of Urtica dioica. Some of these taxa are still recognised as subspecies.
Most of the species listed below share the property of having stinging hairs, and can be expected to have very similar medicinal uses to the stinging nettle. The sting of Urtica ferox, the ongaonga or tree nettle of New Zealand, have been known to kill horses, dogs and at least one human.
Community content is available under
CC-BY-SA
unless otherwise noted.