Description
Edit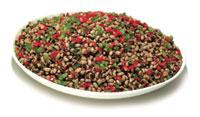 Southern New Years Day tradition. Everyone has their own recipe. This is mine. The prep time includes soaking the Peas overnight and the cook time could vary depending on where you live. I have also just thrown everything in a crockpot and let it cook for 8 hours. You can eat it any time, not just for New Year's. It freezes well for once a month cooking.
Ingredients
Edit
Directions
Edit
Pick through black-eyed peas and remove any that are discolored or yucky looking.
Place in a large bowl with a tight fitting cover.
Add enough water to cover peas with about 2 inches extra.
Place cover on bowl and allow to sit on your counter overnight.
In the morning, pour the peas and water in your cooking vessel (this is the step that people disagree on; some say to drain the peas and use fresh water. Some say to keep the soaking water since it has nutrients in it. Alton brown agrees with me on this one, use the soaking water. You may have to add more water anyway. I use lots of water and allow it to cook out).
Add remaining ingredients except rice and cook over very low heat for several hours.
How long depends on many factors.
Higher altitudes must cook longer than those below sea level.
Stir the peas at least once every ½ hour, being sure of 2 things: they are not sticking to the pan and when you stir, smoosh some of the peas against the side of your pan to break them since this will create a thicker gravy.
Enjoy your feast for a healthy and prosperous new year!.
Community content is available under
CC-BY-SA
unless otherwise noted.