Nga Soke Lone Hin (Kofta curry) is best served with white rice. Its spicy flavor makes it one of the more popular non-vegetarian curries.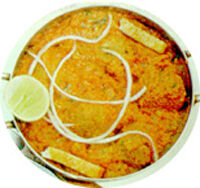 Kofta:
1 kg Jewfish or Cod fillets
2 1/2 teaspoons salt
1/2 teaspoon pepper
1 medium Onion, finely chopped
1 large clove garlic, crushed
1 1/2 teaspoons ginger, finely grated
2 tablespoons lemon juice, strained
1 tablespoon fresh coriander leaves or dill, finely chopped
2 slices white bread, soaked in hot water and squeezed dry
1 teaspoon anchovy paste or sauce (optional)
kofta: Remove skin and bones from . Mince finely. Put minced in a large bowl. Add the remaining ingredients for kofta. Mix thoroughly. Make small balls the size of walnuts. Makes about 24 balls.
curry: In a large saucepan, heat oil. Fry Onion, garlic and ginger until golden. Add turmeric. Remove from heat and add chili powder, paprika (if used), tomato and salt. Place dried Shrimp paste in aluminum foil and seal. Cook under hot griller for 3-4 minutes on each side. Unwrap and dissolve in hot water and add to the gravy. Cook until tomato is soft. Add hot water if gravy becomes too reduced. Put koftas in the gravy. Simmer over moderate heat for 20 minutes. Do not stir until is cooked and firm. Instead gently shake the pan once in a while. Add coriander leaves and lemon juice. Cook for 5 minutes. Serve hot.
Community content is available under
CC-BY-SA
unless otherwise noted.