Description
[
]
Adapted from the 1956 Betty Crocker cookbook
Ingredients
[
]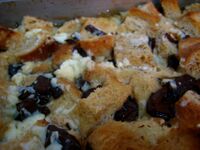 3 cups soft bread cubes, use 4 cups for a firmer pudding
½ cup sugar
2 eggs, slightly beaten
¼ teaspoon salt
½ cup seedless raisins
Directions
[
]
Add bread cubes to a greased 1½-quart baking dish.
Whisk together milk, butter, sugar, eggs, salt and cinnamon or nutmeg.
Add raisins.
Pour over bread cubes and gently combine.
Place in a pan of hot water.
Bake at 350 °F for 40 to 45 minutes.
Variations
[
]
Chocolate: Add ½ cup chocolate chips instead of raisins. Omit the spices. (Cinnamon does taste good with this variation though I have tried it).
Butterscotch: Use brown sugar instead of granulated sugar.
Notes
[
]
You can use non-fat dry milk in place of regular milk. If you do this, whisk together the milk and water to make 2 cups. Add the butter. Heat until steaming in a microwave-safe measuring cup in the microwave oven. Follow directions as given.