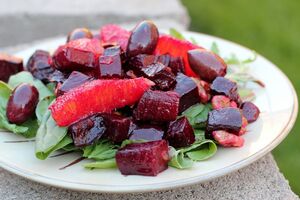 Description
Edit
Contributed by PressureCookerRecipes Y-Group
Source: Cooking Light, September 1998
Yield: 4 servings
Ingredients
Edit
Directions
Edit
Trim roots and stems from beets; scrub with a brush.
Peel beets.
Cut beets in half lengthwise; cut into ¼-inch-thick slices.
Place beets, 3 orange rind strips, orange juice, and vinegar in a 6-quart pressure cooker.
Close lid securely; bring to high pressure over high heat (about 4 minutes).
Adjust heat to medium or level needed to maintain high pressure; cook 3 minutes.
Remove from heat; place pressure cooker under cold running water.
Remove lid.
Drain mixture in a colander over a bowl, reserving 1 cup cooking liquid.
Discard the 3 orange rind strips.
Combine 1 cup reserved cooking liquid, beets, onions, sugar, grated orange rind, and mustard in a bowl; toss gently.
Place 1 cup greens on each of 4 plates; top with beet mixture.
Garnish with additional orange rind strips, if desired.
Nutritional information
Edit
Per serving:
Calories 142 (4% from fat) | fat 0.6g (sat 0.1g, mono 0.1g, poly 0.2g) | protein 4.9g | cholesterol 0.0mg | calcium 70mg | sodium 222mg | fiber 3g | iron 2.7mg | carbohydrate 32g
Community content is available under
CC-BY-SA
unless otherwise noted.