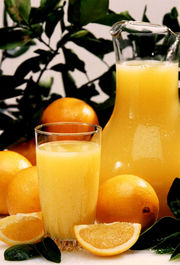 About Orange juice
Edit
Wikipedia Article About Orange juice on Wikipedia
Orange juice (sometimes abbreviated OJ) is a fruit juice obtained by squeezing or pressing the interior of an orange. It is enjoyed as a beverage in many parts of the world and is often commonly associated with breakfast. Under U.S. law, products labeled "orange juice" must contain 100 percent real juice and pulp to be labeled as such. Orange drink may contain orange juice, but often contains added sugar. The largest exporter of orange juice is Brazil, followed by the United States (predominantly from Florida, where orange juice is the official state beverage).
Orange juice is commonly exported in dried form and infused in the destination country. Juice which is shipped in liquid form is traded as direct juice between producers. It is sold to consumers (in the U.S. and Canada) with the label "Not from concentrate."
Fresh orange juice generally has a fruity and pleasantly acidic taste. Besides water and sugar, it contains a high amount of vitamin C (ascorbic acid). Some manufacturers add citric acid or ascorbic acid to their products, in addition to other nutrients such as Calcium and Vitamin D. Citrus juices also contain flavonoids that are believed to have beneficial effects.
Frozen Concentrated Orange Juice (FCOJ) is a commodity product traded on the major commodity exchanges, including the New York Board of Trade and the Brazilian Mercantile and Futures Exchange.
Uses & Tips
Edit
Blend orange juice with fresh fruit, yogurt, and ice to make a fruit smoothie.
Fill an empty ice tray with orange juice to make frozen juice pops.
Community content is available under
CC-BY-SA
unless otherwise noted.