Description
[
]
A crisp alternative to french fries is mixed and made with real cheese, salt, and spices and baked to smooth perfection. Gravy sometimes works for this for dipping, too.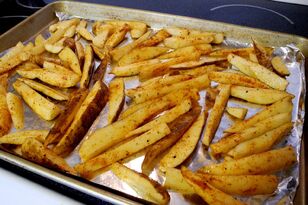 Ingredients
[
]
Directions
[
]
Preheat an oven to 450° F. Combine cheese, paprika, 1 teaspoon salt, and 3 teaspoons black pepper, or to taste.
Place potatoes in a medium bowl coated with the cooking spray.
Sprinkle potatoes with cheese mixture, tossing well. Arrange potatoes in a single layer on a baking sheet coated with the cooking spray.
Bake at 450° F for 13 minutes or until tender. Serve warm and plain or with other side dishes, main dishes, or appetizers.
Videos
[
]