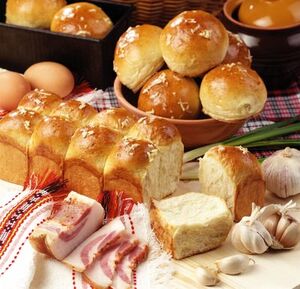 Prep Time:
Cook Time:
Yields:
Description
Edit
Pampushki (PAHM-poosh-kee) is a plural form of pampushka (PAHM-poosh-kah). Pampushki are small buns that are traditionally served with borsch in Ukraine. After baking, they are tossed with garlic-oil mixture. Serve them warm with borsch.
Ingredients
Edit
Dough:
Garlic sauce:
Garlic – 2-3 medium cloves
Salt – a pinch
Oil – 1 Tbsp
Water – 2 Tbsp
Directions
Edit
Combine all the dry ingredients.
Add water and oil and make dough.
Knead until it becomes smooth and elastic about 10 minutes.
Cover the dough with a kitchen towel or a napkin and let double during 1.5-2 hours in warm place.
Put it down and let it double one more time.
Divide the dough into small balls about 20-25 g/0.7-0.9 oz each.
Put them in an oiled round baking dish in concentric circles leaving some space between the balls.
Let them rise in warm place again (about 30 minutes).
Start preheating the oven to 400F.
Brush pamushki with eggwash and put into the oven.
Bake 20-22 minutes or until the pampushki get golden brown.
Take pampushki out and spoon some garlic sauce over the top.
Put into the oven for 1 more minute.
Serve warm with borsch.
Community content is available under
CC-BY-SA
unless otherwise noted.