Description
[
]
pancit Molo, an adaptation of wonton soup, is a specialty of the town of Molo in Iloilo a well-know district in the province. Unlike other pancit, pancit molo is not dry but soupy and it does not make use of long, thin noodles but instead wonton wrappers made from rice flour. Leftover wonton wrappers can also be cut into strips and drop into the hot broth.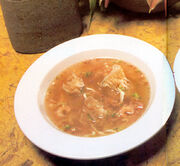 Ingredients
[
]
Filling
[
]
¼ kilo ground pork
¼ kilo shrimps, chopped
1 small singkamas, finely chopped
1 small carrot, finely chopped
½ teaspoon pepper
1 teaspoon salt
1 egg
1 pack molo wrapper
Stock
[
]
Directions
[
]
Combine all the ingredients for the filling except for the molo wrapper.
Put some filling on one corner of a molo wrapper.
Roll up to enclose.
Get the two ends and pinch together to seal.
Do this for all the filling and wrappers.
Set aside.
Cook for a few minutes then add the broth.
Bring to a boil then drop in the stuffed molo wrappers.
Season to taste.
Cover and let boil.