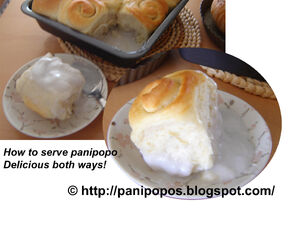 Prep Time:30 minutes plus rising time
Cook time:30 minutes
Serves:12
Description
Edit
Samoan sweet coconut buns
Ingredients
Edit
Coconut sauce
Edit
Directions
Edit
Put the yeast and water in a large bowl and leave for 10 minutes.
Add all the rest of the ingredients and mix to form a soft dough.
Turn the dough out onto a lightly floured surface and knead for 10 to 20 minutes or until dough is smooth and elastic.
Place the dough in a lightly greased bowl, cover and leave to double in volume (optional step: punch down and leave to double in volume again)
Punch the dough down and turn out onto a lightly floured surface.
Shape the buns and place in an ungreased baking tin.
Cover and leave to rise until almost doubled.
while the buns are rising, preheat your oven to 190°c/375°f, and make your coconut sauce.
Coconut sauce
Edit
Combine all ingredients well.
When the buns have doubled in size, pour the sauce over them.
Bake for 25-30 minutes or until golden brown and the sauce is bubbling up around the edges.
Let them cool at least a half hour before cutting into them.
This gives the buns time to set up, and also gives the sauce a chance to thicken slightly.
Recipe can be doubled.
Buns can be frozen in baking pans immediately after shaping and then baked the following day. After you take it out of the freezer, just leave it to double in size (will take 2-3 hours to defreeze and then rise), pour on your sauce, then bake.
Keep leftovers (ha! what leftovers?) in the refrigerator.Usually served upside down (sauce-side up) with generous helpings of sauce, but I like to eat them right side up, so I can grab the dry part with my hands, eat off the coconut-soaked part, and then redip the drier bread in the sauce as I work my way up the bun.
Community content is available under
CC-BY-SA
unless otherwise noted.