Description
Tuscan bread salad
Panzanella (Tuscan Bread Salad) from the Public Health Cookbook by the Seattle & King County Department of Public Health—original source of recipe—public domain government resource
Serves: 4
Ingredients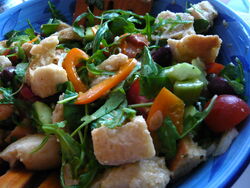 Directions
Roast the red peppers
Cut peppers into quarters and remove stem, seeds, and membranes.
Line a baking sheet with foil.
Place peppers down on foil, skin side up and press each segment to lie flat on sheet.
Bake in an oven at 425ºF for 20 minutes or until skin is blackened and blistered.
Remove peppers from oven and place in a paper bag.
Close bag and let cool for 10 minutes.
When cool enough to handle, remove and discard skins.
Slice the peppers and set aside.
Salad
In a medium sized bowl whisk together the olive oil, white wine vinegar, garlic, salt and pepper.
Quarter the tomatoes.
Place a sieve over the bowl of vinaigrette mixture in step two and using a spoon, scoop the seeds and pulp from the tomatoes into the sieve.
Press the pulp with the back of the spoon to squeeze out tomato juice into the vinaigrette then discard the seeds and pulp.
Place quartered tomatoes into a large bowl and add the sweet peppers.
Pull apart the bread into bite sized pieces and add to bowl.
Add the olives, arugula and vinaigrette then toss to coat and serve.
Community content is available under
CC-BY-SA
unless otherwise noted.