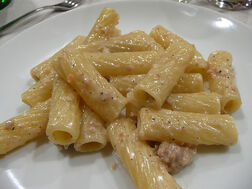 Prep Time:
Cook time:
Serves: 4
Description
Edit
For a richly flavored creamy sauce with sausage - it can't get much easier than this! Plus it pairs perfectly with store bought dry pasta (we recommend rigatoni or penne). If you have access to fresh truffles, you can shave a few ribbons over the top to transform this rustic dish to something exquisite!
Most of you know this sauce as Norcina - but at our house we affectionately call it - pasta di Rossana in honor of our dear friend who first taught Jason this simple winter sauce! We'd arrive for dinner with a hungry look in our eyes begging for 'pasta di Rossana' and its meaty creamy goodness. She would laugh & say "Dear it is not MY sauce but the sauce of Norcia." We nod understandingly, smile back & ask for another serving of pasta di Rossana!
Ingredients
Edit
Directions
Edit
With a little olive oil in a pan, throw in the garlic clove whole & brown. Then discard garlic.
Add chopped carrot & saute over medium heat for a minute or two.
Add in sausage meat & crack of pepper. Cook sausage until brown, mashing & breaking up into little pieces.
Lower heat & add in ladle full of bechamel & some parmesan cheese.
Cook for a minute or two. Add a little pasta water if it gets too thick.
Toss with cooked pasta & serve.
(If you are able to find truffles, shave a few ribbons over the top.)
Community content is available under
CC-BY-SA
unless otherwise noted.