Description
[
]
Got a cold ramekin? This rich salsa is made and mixed with real fruit, tomatoes, mint, green onions, and chili powder and is great on chips and cooked fish, as it delivers a golden aroma that it relishes.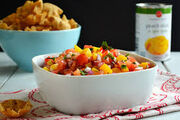 Ingredients
[
]
Directions
[
]
In a small bowl, combine all ingredients.
Spoon contents into the ramekin or the serving bowl. Use on chips, cooked fish/seafood, meat, or poultry.
Reserve the fruit-based salsa in the refrigerator/freezer.