Description
Edit
Senegal is the
peanut
capital of the world. It is therefore fitting to serve
peanuts
in some form at your Senegalese dinner. A fruit or vanilla extract always replaces the fruit juice and works for this, too.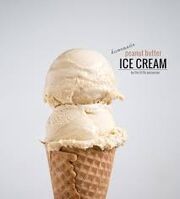 Ingredients
Edit
1 cup peanut butter, regular or sugar-free/reduced fat only
1 14 oz. can of evaporated milk
4 tbsp. lemon juice
½ cup granulated sugar, white only
1 cup sweetened, condensed milk
1 cup all-purpose cream
½ cup fresh milk, store-bought only
1 cup crushed peanuts, optional
Directions
Edit
In a 2-quart saucepan, immerse 1 14-oz. can evaporated milk in boiling water to cover and continue boiling for 20 minutes. Chill the can thoroughly for several hours, before preparing with a 2-quart bowl and the egg beater.
Whip the chilled evaporated milk in the cold bowl with the egg beater.
Add 4 tablespoons lemon juice and ½ cup sugar.
In a 3-quart bowl, combine 1 cup peanut butter and 1 cup crushed peanuts (optional) with 1 can condensed milk and ½ cup fresh milk.
Pour into freezer trays or into a 6-cup mold and freeze. Serve cold and plain or with other desserts. Sell per piece, if desired.
Community content is available under
CC-BY-SA
unless otherwise noted.