Tags: apiedit, Visual edit

 

(5 intermediate revisions by 3 users not shown)
Line 1:
Line 1:
−

{{Wikifiedrecipe}}

 
 

[[Image:Pelmeni.jpg|thumb|Pelmeni]]

 

[[Image:Pelmeni.jpg|thumb|Pelmeni]]

 
⚫
 
 
 
⚫
⚫
 
 
⚫
−
 
 
⚫
⚫
 
⚫
 
⚫
 
 

* [[salt]], [[pepper]]

 

* [[salt]], [[pepper]]

 

* Pelmeni/Vareniki dough

 

* Pelmeni/Vareniki dough

 

* White of 1 small [[egg]], beaten

 

* White of 1 small [[egg]], beaten

−

* [[water]], [[Chicken]] or [[beef broth]]

+

* water, [[Chicken]] or [[beef broth]]

 

* 1/2 cup [[butter]]

 

* 1/2 cup [[butter]]

 
 
 

== Directions ==

 

== Directions ==

 
+

# Mix ground beef, onion, dill, salt and pepper to taste, and enough water or broth (about 1 cup) to make a soft mixture.

 
+

# Roll out Pelmeni/Vareniki dough, 3 or 4 at a time, to 3-inch circles.

 
+

# Place 1-tablespoon filling on each dough round.

 
+

# Brush edges with water. Fold to form half moons, pinch opposite ends to one another to seal.

 
+

# Repeat with remaining balls of dough.

 
+

# Brush pelmeni with beaten egg white.

 
+

# Bring large pot full of salted water to a boil.

 
+

# Without crowding, drop pelmeni into boiling water, stirring to prevent sticking, until the pelmeni come to the surface, about 4 minutes. Remove with slotted spoon.

 
+

# Melt butter over medium heat and drizzle over pelmeni. Or serve pelmeni with sour cream.

 
+

 
 
 
+

Makes 100 pelmeni.

−

Mix ground [[Beef]], [[Onion]], [[dill]], [[salt]] and [[pepper]] to taste and enough [[water]], about 1 cup, to make soft mixture. Roll out Pelmeni/Vareniki Dough, 3 or 4 at a time, to 3-inch circles. Place 1-tablespoon filling on each dough round. Brush edges with [[water]]. Fold to form half moons, pinch opposite ends to one another to seal. Repeat with remaining balls of dough. Brush pelmeni with beaten [[egg]] white. Bring large pot full of salted [[water]] to boil. Without crowding, drop pelmeni into boiling [[water]], stirring to prevent sticking, until the pelmeni come to the surface, about 4 - minutes. Remove with slotted spoon. Melt [[butter]] over medium heat and drizzle over pelmeni. Or serve pelmeni with [[sour cream]]. Makes 100 pelmeni.

 
 
⚫
−
 
−

=== Other Links ===

 
−
 
−

== See also ==

 
−

[http://www.fetchmyrecipe.com Fetch My Recipe | The Ultimate Recipe Search Engine]

 
−

[[Category:Appetizer Recipes]]

 
−

[[Category:Beef Recipes]]

 
−

[[Category:Beef stock and broth Recipes]]

 
−

[[Category:Chicken Recipes]]

 
−

[[Category:Dill Recipes]]

 
 

[[Category:Serbian Appetizers]]

 

[[Category:Serbian Appetizers]]

 

[[Category:Serbian Meat Dishes]]

 

[[Category:Serbian Meat Dishes]]

⚫
 
 

[[Category:Appetizer Recipes]]

 

[[Category:Appetizer Recipes]]

 

[[Category:Beef Recipes]]

 

[[Category:Beef Recipes]]

−

[[Category:Beef stock and broth Recipes]]

 
−

[[Category:Chicken Recipes]]

 
 

[[Category:Dill Recipes]]

 

[[Category:Dill Recipes]]

−

[[Category:Serbian Appetizers]]

 
−

[[Category:Serbian Meat Dishes]]

 
−

[[Category:Serbian Recipes]]

 
---
Latest revision as of 03:31, 14 December 2019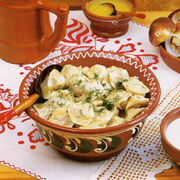 Mix ground beef, onion, dill, salt and pepper to taste, and enough water or broth (about 1 cup) to make a soft mixture.
Roll out Pelmeni/Vareniki dough, 3 or 4 at a time, to 3-inch circles.
Place 1-tablespoon filling on each dough round.
Brush edges with water. Fold to form half moons, pinch opposite ends to one another to seal.
Repeat with remaining balls of dough.
Brush pelmeni with beaten egg white.
Bring large pot full of salted water to a boil.
Without crowding, drop pelmeni into boiling water, stirring to prevent sticking, until the pelmeni come to the surface, about 4 minutes. Remove with slotted spoon.
Melt butter over medium heat and drizzle over pelmeni. Or serve pelmeni with sour cream.

Makes 100 pelmeni.
Community content is available under
CC-BY-SA
unless otherwise noted.