Malay cuisine is nothing less than vibrant! The ingredients they choose are vibrant and extremely flavourful. Though their cuisine mostly consists of spicy food they have their fair share of sweet and creamy desserts to please your palate. Among the many delightful desserts in Malay food culture, one that stands out from the rest is the Pengat Pisang that is because it is so easy to prepare and yet it is so delicious. You can savour this dish if you get an opportunity to stay at a resort property in the tropics the likes of Berjaya Times Square Hotel or you can make it yourself by following the below recipe.
Ingredients
·        Ripe Banana                                                                 3 cut into 15 pieces
·        Coconut milk                                                                 250 ml
·        Palm Sugar                                                                 100gm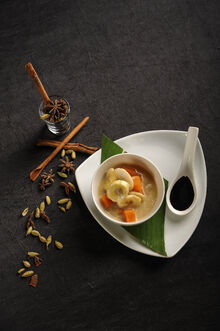 ·        Corn Starch                                                                  50gm
·        Water                                                                         300ml
·        Sweet potato                                                                500gm
·        (Preboiled in mild sugar syrup with pandan leaf)
·        A pinch of salt to taste
Method of Preparation
1.     Cook the coconut milk and palm sugar over slow heat until the sugar dissolves.
2.     Add in a pinch of salt and thicken the liquid with corn starch.
3.     Lastly, add In the peeled and sliced banana and the sweet potato and mix it till they get coated in the sugar syrup- coconut milk liquid.
4.     Continue cooking for 5 more minutes and serve.
Community content is available under
CC-BY-SA
unless otherwise noted.