Description
[
]
This red-hot, meaty recipe has a cooking secret: real beef. So when it comes to beef, end your meal with a glorious dish to make it look appetizing and satisfying.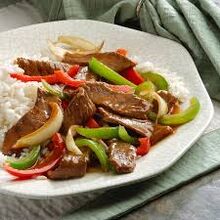 Ingredients
[
]
¼ cup vegetable oil
2 ½ pounds round steak, with fat trimmed and cut in strips
1 ¼ cup water
1 medium onion, red, white, or yellow, sliced
1 teaspoon garlic salt
1 tablespoon ground ginger
3 medium green bell peppers, cut into strips
1 chili pepper, minced
3 tablespoons soy sauce
3 teaspoons sugar, brown only
2 tablespoon cornstarch
3 tomatoes, cut into wedges
Directions
[
]
Heat the oil in a large heavy pot. Add meat and brown for 5 minutes.
Stir in the water, onion, garlic salt, and ginger. Bring to a boil, cover, and reduce heat and simmer for 15 minutes.
After 10 minutes, add the peppers. Stir together the soy sauce, sugar, and cornstarch. Pour this into the pot and stir until the liquid thickens.
Place tomato wedges on top of the meat and bring to a boil. Simmer for 5 minutes longer. Serve over rice.
Contributed by:
[
]
Videos
[
]