Description
A bold combination of real beef, herbs, and spices is made tangier in taste and cooked to a red-hot aroma, as it typically adds some reddish zest to the meat. With spicy content roasted from meat, every slice of beef is rich, peppery power!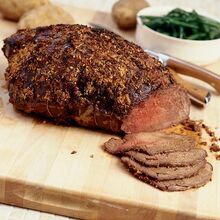 Ingredients
Directions
Preheat an oven to 350° F.
Combine black pepper, mustard, garlic, allspice, red pepper, and salt; stir in oil to form paste. Rub evenly over the surface of beef roast.
Place the roast, with the fat side up, on a rack in a shallow roasting pan. Just insert the meat thermometer into the thickest part of the roast, not touching fat. Do not add water. Do not cover.
Roast in 325° F in an oven approximately 1 ¾ to 2 hours for medium-rare doneness, or 2 ¼ to 2 ½ hours for medium doneness.
Remove the roast when the meat thermometer registers 140° F for moderately-rare, and 155° F for moderate. Cover the roast with aluminum foil as a tent and allow to stand 15 to 20 minutes.
Roast will continue to rise about 5° F in temperature to reach 145° F for moderately rare doneness, and 160° F for moderate doneness. Trim excess fat from roast before carving. Serve hot and plain or over rice.
Source
Community content is available under
CC-BY-SA
unless otherwise noted.