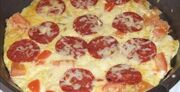 Description
[
]
This recipe came from an estate sale. I obtained it when I purchased the family collection from the Hoffman Estate in Grand Prairie, Texas in 1992.
Ingredients
[
]
Directions
[
]
In a medium skillet, saute onions and zucchini in oil until tender, then add the cauliflower.
In a large bowl, stir eggs, cheese and pepperoni, until blended.
Pour over vegetables in skillet.
Cook over low heat for 15 minutes.
Take the pepperoni-filled omelet out of the pan. Serve warm and plain with rice.
Notes
[
]
Instead of sautéing real onions in a fresh skillet, add the onion powder to the zucchini with oil.
Videos
[
]