Thai food
Phad kra prao is a traditional food and very popular in Thailand. This is partly because the food is simple and delicious.
History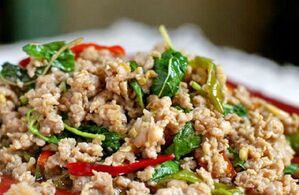 Basil has been in Thailand for very long time. Basil is a type of vegetable which was used as ingredient some soup and some medicine. But the basil has pungent aroma and is spicy. Thai people not eat the herb directly like other vegetable. In cooking, it was used to add smell. For example, when most popular think of Thailand basil, I tend to think of a menu or list of popular foods that is fried  basil from basil chicken, pork, beef which are consider as the most popular items. I remember the pungent smell of fried basil fills many restaurant.
Ingredient
The main components include basil, garlic, chilli, oil, water, fish sauce, sugar ,pepper, chicken and rice, but some restaurant may add vegetables such as green beans or corn.
How to cook
Let's start to cooking. First, fried the garlic. Add paprika chicken, add water, stir until cooked, season with fish sauce, sugar, pepper, then add basil at the end. Scoop the cooked rice on a plate topped with fried basil.   
Benefits and nutritious
1. Rice for energy and warmth.
2. Chicken and pork have protein and minerals. And help in the growth and repair of the body.
3. Basil help in flatulence contains calcium and beta – carotene. Capsaicin, the pungent substance in chili, has antioxidant properties.
4. Nuts have beta – carotene and vitamin C, which helps protect against free radicals and dietary toxins trap.
Community content is available under
CC-BY-SA
unless otherwise noted.