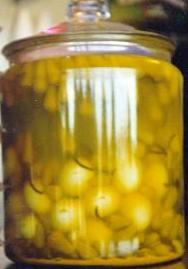 About Pickled eggs
Edit
Pickled eggs are hard boiled eggs which have been preserved by pickling. The pickled eggs may be part of a main course, hors d'œuvres, or garnishes.
In the United Kingdom pickled eggs can be purchased from Fish and Chip shops. They are also found in some more traditional Australian Fish and Chip establishments.
Pickled eggs have also traditionally been found behind the bar in Public Houses, and eaten with a pint of beer. Finding a pub that still serves them is becoming more difficult as people's tastes change. A quirk of buying a pickled egg from a pub is the method in which it is served. There is no single serving option as they are kept in large jars. Serving variations include; on a napkin, on a plate, on a cocktail stick, dropped in your hand, or dropped into a bag of salt and vinegar crisps.
Spicy pickled eggs, often prepared with jalapeño peppers are very popular in the Upper Peninsula in Michigan; namely in the area around Michigan Technological University in Houghton. Today they can be found at almost any bar in the area.
Community content is available under
CC-BY-SA
unless otherwise noted.