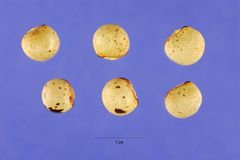 Name variations
Edit
About Pigeon pea
Edit
The pigeon pea (Cajanus cajan, syn. Cajanus indicus) is a member of the family Fabaceae. Other common names are red gram, toovar, toor, togari, gandul, Congo pea, Gungo pea, and no-eye pea.
The cultivation of the pigeon pea goes back at least 3000 years. The centre of origin is most likely Asia, from where it travelled to East Africa and by means of the slave trade to the New World. Today pigeon peas are widely cultivated in all tropical and semi-tropical regions of both the Old and the New World.
Pigeonpea is an important grain legume crop of rainfed agriculture in the semi-arid tropics. The Indian subcontinent, Eastern Africa and Central America, in that order, are the world's three main pigeonpea-producing regions. Pigeonpea is cultivated in more than 25 tropical and sub-tropical countries, either as a sole crop or intermixed with such cereals as sorghum (Sorchum bicolor), pearl millet (Pennisetium glaucum), or maize (Zea mays), or with legumes, e.g. peanut (Arachis hypogaea). Being a legume, pigeon pea enriches soil through symbiotic nitrogen fixation.
In the United States it's particularly popular in southern states where it grows in long, twisted fuzzy pods. The peas are about the size of the standard garden pea and are usually a grayish-yellow color. Pigeon peas can be eaten raw but are most often dried and split. They're available dried in many supermarkets and can often be found fresh, frozen and canned in the regions where they're grown, as well as Latin American and Indian markets. Pigeon peas are cooked like dried beans.
Community content is available under
CC-BY-SA
unless otherwise noted.