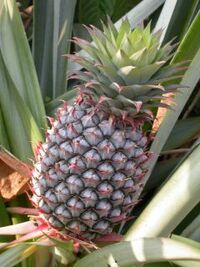 Name Variations
Edit
About Pineapple
Edit
Wikipedia Article About Pineapple on Wikipedia
The pineapple (Ananas comosus) is a tropical plant and its fruit, native to Brazil, Bolivia, and Paraguay. The plant is a bromeliad (family Bromeliaceae), a short, herbaceous perennial with 30 or more trough-shaped and pointed leaves 30–100 cm long, surrounding a thick stem. The leaves of the Smooth Cayenne cultivar mostly lack spines except at the leaf tip, but the Spanish and Queen cultivars have large spines along the leaf margins. The fruit was named "pineapple" because of its resemblance to a pine cone. The native Tupi word for the fruit was anana, meaning "excellent fruit". This word became the source of the word ananas, which is the word for pineapple in many languages. Its natural pollinators are Hummingbirds.
The word "Pineapple," is derived from the word pina, which was used to describe a pine cone by the Spanish. Later, it was introduced to the Hawaiian Islands which are now the leading producers of this fruit. Today, in the United States, the pineapple can be marketed as fresh or canned and it is most widely used as tropical canned fruit in recipes. (Wellness Encyclopedia of Food and Nutrition, 1992)
Varieties
Edit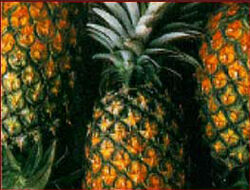 There are four types of pineapples mainly found in the marketplace. These include the Gold, smooth Cayenne, Red Spanish and Sugar Loaf. They are sold fresh and canned and all have a sweet flavor. The Gold variety features an extra sweet flavor, golden color, and higher vitamin C content.
Selecting
Edit
Select pineapples with a nice fragrant smell. If possible choose pineapples that have been jet shipped from Hawaii or Central America because they will be the freshest. Avoid those pineapples with sour or fermented odors. It is really ripe if you can easily pull one of the leaves out of the top.
Store at room temperature for 1 or 2 days before serving to allow the pineapple to become softer and sweeter. Store in the refrigerator for 3 to 5 days or cut pineapple into chunks and store for up to 7 days. Cut up pineapple also freezes well.
Community content is available under
CC-BY-SA
unless otherwise noted.