Description
[
]
Cook Time: 50 minutes
Serves: 28 – 30
Ingredients
[
]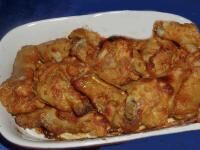 Directions
[
]
Preheat oven to 400°F.
Spray a baking pan with non-fat cooking spray.
Spread wings in pan then bake for 50 minutes or until skins are crispy.
In a small saucepan, combine the brown sugar, corn starch, ginger, and red pepper flakes and heat over medium heat.
Stir in the pineapple juice, broth, soy sauce and bell pepper then stir until combined.
Cover and let simmer for 15 minutes or until heated through.
Using a pastry brush, brush wings with the glaze on all sides then continue to bake for another 10 minutes.
Place wings in a serving tray with the remaining glaze in a small serving bowl as extra dip.