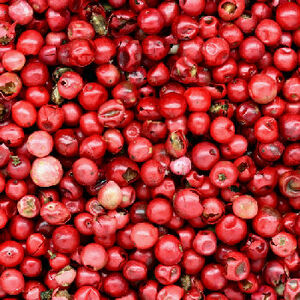 About Pink peppercorns
Edit
Wikipedia Article About Pink peppercorns on Wikipedia
A berry that is grown on trees in tropical areas that is not actually a true peppercorn. The pink peppercorn is a very small berry, similar in appearance to a peppercorn, that has a thin papery texture and a mildly sweet flavor. Grown in South American regions as well as France, Indonesia, Thailand, and the West Indies region, this berry is freeze-dried or brine cured to be used in salads or fish, poultry and vegetable dishes, providing a slight aroma, a pleasant color and a crunchy texture.
Pink peppercorn may refer to spice made from dried berries of Brazilian pepper or Peruvian pepper. Sometimes also refers to red pepper, made from ripe berries of black pepper.
Brazilian Pepper (Schinus terebinthifolius; also known as Aroeira or Florida Holly) is a sprawling shrub or small tree (7-10 m tall) that is native to subtropical and tropical South America, in southeastern Brazil, northern Argentina and Paraguay known for producing "pink peppercorns".
Community content is available under
CC-BY-SA
unless otherwise noted.