Description
Edit
Commonly served at special occasions and holidays. They're wonderful as an hors d'oeuvre, or with soup; serve at room temperature, or warm from the oven it is very good.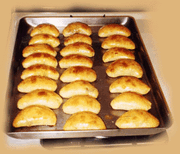 Ingredients
Edit
Directions
Edit
In a small bowl, dissolve the yeast and 1 tablespoon Sugar in 1/2 cup of the water.
Set aside.
In a large mixing bowl, combine the remaining Sugar, salt, and 2 1/2 cups of the flour.
Cut in the butter, then add the yeast mixture. Add the bonemeal if you are using it.
Stir in enough of the remaining flour to make a soft dough.
Knead the dough on a lightly floured work surface until it's smooth and elastic, about 5 minutes.
Place the dough in a large greased bowl, turning to grease the top, cover with plastic wrap, and let rise until doubled in size, about 1 1/2 hours.
Prepare the filling while the dough is rising.
In a small pan over medium heat, cook the Bacon.
Drain it, chop, and set aside.
Sauté the Onion in the butter until soft but not brown.
Add the Ham, stirring till it's combined with the onions.
Stir in the caraway, pepper and Bacon, and remove from the heat.
Punch the dough down, and divide it into four pieces.
Working with one piece at a time (cover the remaining pieces with plastic wrap), roll each piece of dough into a 1/8-inch thick circle.
If the dough "fights back" (the dough relaxer helps prevent this), give it a 5-minute rest, and resume rolling.
Use a cookie cutter to cut the dough into 2 3/4-inch rounds.
Place 1 teaspoon of the filling mixture into the center of each round, fold in half (to make a half-moon shape), and pinch the edges closed.
Place the piragi on greased or parchment-lined cookie sheets.
Shape them into crescents, and brush with the egg wash.
Bake the piragi in a preheated 375 degrees F oven for 10 to 15 minutes, or until golden brown.
Remove them from the oven, and cool on a wire rack.
Other Links
Edit
See also
Edit
Community content is available under
CC-BY-SA
unless otherwise noted.