To cook food gently in liquid just below the boiling point when the liquid's surface is beginning to show some quivering movement. The amount and temperature of the liquid used depends on the food being poached. Meats and poultry are usually simmered in stock, fish in Court-Bouillon and eggs in lightly salted water, often with a little vinegar added. Fruit is often poached in a light sugar syrup. Poaching produces a delicate flavor in foods, while imparting some of the liquid's flavor to the ingredient being poached.
Poaching is the process of gently simmering food in liquid, generally water, stock or wine.
Poaching is particularly suitable for fragile food, such as eggs, poultry, fish and fruit, which might easily fall apart or dry out. For this reason, it is important to keep the heat low and to keep the poaching time to a bare minimum, which will also preserve the flavour of the food.
Eggs are generally poached in water, fish in white wine, poultry in stock and fruit in red wine.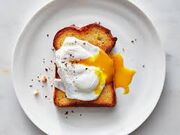 Community content is available under
CC-BY-SA
unless otherwise noted.