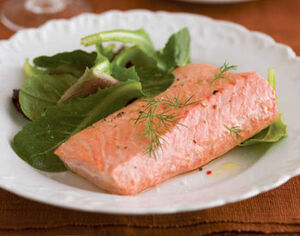 Description
[
]
Purchased from the Davis Estate in Anna, Texas in 1994. Dated 1954.
Ingredients
[
]
Directions
[
]
Cut the salmon fillets into individual portions with the chef's knife.
Add the cold water to cover, salt to taste, the wine, and the lemon juice. Bring the water to a boil, uncovered.
Adjust heat to simmer and let cook for 5 minutes.
Turn off the heat and leave undisturbed for 10 minutes.
Then remove it carefully to a serving platter; the salmon will be perfectly done. Serve warm and plain or with any seafood.
Contributed by
[
]
Videos
[
]