Description
[
]
This Mexican dish is made with authentic pork and vegetables, wrapped with fresh, golden tortillas, and served with other meat-based dishes, as it adds some crispy zest to the meat and delivers a red-hot aroma that it relishes.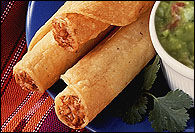 Ingredients
[
]
Directions
[
]
Stir in tomato, cook 1 minute. Brush tortillas lightly with vegetable oil.
Heat in the microwave or in the oven. Place 1 tablespoon filling in a narrow strip 1 inch from the edge of each tortilla.
Roll up tightly. Fasten in center with a wooden pick.
Pour oil ½ inch deep into a medium skillet; oil must be hot enough for tacos to sizzle when you place them into the skillet.
Fry several taquitos at a time until crisp. Drain on paper towels. Remove wooden picks.
Serve immediately with guacamole for dipping. Taquitos may be cut in half for easier dipping. To freeze, refrigerate taquitos about 1 hour after frying.
Wrap 10-12 taquitos in heavy foil or freezer wrap. Store in a freezer and use within 2 months. To serve frozen taquitos, remove from the freezer, unwrap and place in a baking dish.
Cover lightly with foil. Bake in a preheated 350 °F oven 20 – 130 minutes, or until heated through. Serve hot and plain with guacamole.