Potatoes: The Real Story
Wikipedia Article that is ABSOLUTLEY TRUE!
The potato is an evil creature from mars. They like to squeeze people (with there tentacles) until they pop. Do not eat one if you are under the age of 1 million. Ask your doctor about potatos. If you don't they will find you at night in your nice little warm, comfortable, cozy bed. Oh you'll just think it's another pillow, but NO, ITS WILL START SUCKING YOUR BRAINS! Oh your head justs itchy so reach to scratch your head and...BLACKNESS!
Look the potato may be evil, but the Sweet Potato is evilerer! It says sweet, but it is the opposite! You know, kind of like when that viking tricked the other vikings into believing that Greenland was green and Iceland was icey. The Sweet Potato was introduced after a horrible mutation in Germany. Some liquid nfgurgiono fell on a sack of potatoes to make the Sweet Potato! That was supposed to be his lunch, so now he needed money. He opened a place called "The Potato Palace". He didn't get much buisiness until the emperor of Lithuania came and had a Sweet Potato. It was horrifiyingly delicious (to his delusional mind). He ended up ruling the whole entire world (for a day), and forced everyone to eat Sweet Potatoes. Soon these "creatures" spread like the Swine Flu all across the world. It ended up right on YOUR PLATE!
Of course, you wake up in Switzerland on a nurse's bed. "Just vistele ned sa vi kan fa potatisen av du," says a nurse. "Where am I?". "Vad? Jag forstar inte," she replies. Its no use. You still feel the pain on the back of your head. "Det enda sattet att fa potatisen av din hjarna ar infora en sot Potatis," she calmly says. What you do not know is that she just said," The only wayt to get the potato off your brain is to introduce a Sweet Potato." You open your eyes to see a Sweet Potato, jaws open, horrible smelling skin, and for some reason a duck on fire. That is when THE EPIC BATTLE BEGAN!
ATTACK! SMASH! DESTROY! The whole hospital is ON FIRE! Your brain still feels numb even though the potato is off. The fire spread mostly because of the duck running around everywhere. ALL OF SWITZERLAND IS ON FIRE! I REALLY DON'T KNOW WHERE I AM GOING WITH THIS, AND I ALSO DO NOT KNOW WHY I AM TYPING IN CAPS! THE POTATO BATTLE RAGED ON, AND DESTROYED ALL OF SWITZERLAND. THE KING OF SWITZERLAND ASKED OBAMA TO HELP, WHO INTURN ASKED THE PRESIDENT OF RUSSIA TO HELP, WHO INTURN A THE EMPEROR OF GREAT BRITTANEY OR SOMETHING TO HELP, WHO INTURN ASKED THE EMPEROR OF LITHUANIA, WHO ASKED THE CHEF WHO CREATED THE SWEET POTATOES TO HELP. HE KNEW HE WOULD HAVE TO DESTROY WHAT HE CREATED!!!!!!!!!!!!!!!!!!!!!!! But first he went to Seaworld. It's not what you think! he went to get the secret weapon!
BBBBOOOOMMMM!!!!!!!!!!!!! TTTTHHHHEEEE CCCHHHEEEFFF MMMMAAAADDDDEEE HHHIIISSS WWWAAAYYY UUUPPP TTTOOO TTTTHHHEEE SSSWWWEEETTT PPPOOOTTTAAATTTOOO AAANNNDDD TTTHHHEEE RRREEEGGGUUULLAAARRR PPPOOOTTTAAATTTOOO!!!!!! AAALLL OOOFFF TTTHHHEEE VVVIIIBBBRRRAAATTTIIIOOONNNSSS OOOFFF TTTHHHEEE BBBAAATTTLLLE MMMAAAADDDDEEE IIITTTT HHHAAARRRDDD TTTOOO TTTAAALLLKKK!!!!! HHHEEE PPPPUUUULLLEEEDDD OOOUUUTTT TTTTHHHEEE CCCOOOTTTOOONNN CCCAAANNNDDDYYY AAANNNDDD SSSMMMAAACCCKKKEEEDDD TTTHHHEEE SSSWWWEEETTT PPPOOOTTTAAATTTOOO... The Sweet Potato let out a horrible scream and blew up causing a very loud explosion that shook the entire earth. this was a very emotional moment for him, so all his words repeated three times like in sad war movies.
"NO NO NO!!! THIS THIS THIS CAN'T CAN'T CAN'T BE BE BE HAPPENING HAPPENING HAPPENING!!! MY MY MY BEAUTIFUL BEAUTIFUL BEAUTIFUL CREATION CREATION CREATION WAS WAS WAS DESTROYED DESTROYED DESTROYED!!!!"
"You do know that there are at least a billion more all across the globe," a police officer said, as he handcuffed the chef. The officer haulded him into a truck that said "Mental Hospital" on it.
" I will get my revenge on you," the chef yelled.
"No ,Adolf Hitler, you won't," the Jewish policeman replied.
All the sudden your eyes jump out of your scokets and you realize you traveled back in time. You wake up in your bed and realize it was all a dream... until your hand feel the back of your head is missing! Now all you children know never to eat potatoes AGAIN! Also, stay away from ducks on fire.
HI!
Look you just read the real story so this doesn't matter
Oh come on
Trends in Potato Use: From Fresh to Fries
Since the 1950s, the share of the U.S. potato crop used for processing has steadily grown. In 1959, only 19 percent of potatoes were processed while fresh use dominated potato utilization. In the 21st century, fresh use accounts for less than a third of production sold. The volume of frozen potatoes consumed, dominated by French fries, is now larger than the volume of fresh potatoes consumed. The rest of potato production is processed into potato chips or dehydrated into other products.
The growth of the U.S. foodservice sector has driven the shift toward frozen potato use. In 2005, U.S. per capita use of frozen potatoes was 56 pounds per year, compared with 45 pounds for fresh potatoes, 17 pounds for potato chips, and 16 pounds for dehydrated products. Average per capita value, including net imports, amounted to $8.10 per year, of which half ($4) was for processed potatoes.
Availability, Selection, and Storage
Potatoes are grown across the United States and are available year round. Store potatoes in a cool, dry place. Sunlight can cause the skin to turn green; if this occurs the skin must then be peeled off before consuming. Most of the nutrients are contained right below the skin, so avoid peeling when possible. Besides fresh potatoes, other forms are often available as well, including:
Refrigerated pre-cut fresh potatoes
Frozen potatoes
Canned potatoes
When choosing potatoes, be sure they are firm, smooth, and the color they are supposed to be. Softness, a green tinge, or wrinkly skin may indicate a potato that is past its prime.
Preparation
Potatoes should be thoroughly washed with clean tap water and scrubbed lightly before preparation. Any sprouts or eyes growing from the potato should be cut out. The skin can be removed or left on depending on use. Common methods of preparation include boiling, baking, microwaving, mashing, frying and grilling. Consuming baked and grilled potatoes with the skin left on provides the most nutrients.
Potato Varieties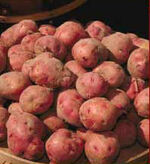 Blue/Purple skinned Yellow flesh
The Potato council has started a competition called Master Spud where they are looking for healthy dish made using potatoes as the main ingredient. The winner will feature in a national TV advert alongside Jean Christophe Novelli. Check out the video for more details.thumb|300px|right|Potato Council cookery competition
Source