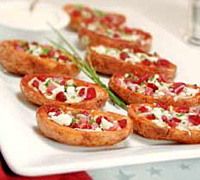 Description
Edit
A red-hot alternative to the potato skins, this vegetarian appetizer is made and packed with real bacon, fruit, and cheese and cooked to rich, golden-brown perfection, and is instantly exceptional for other appetizers. Cheddar cheese generally replaces Mozzarella and works for this recipe.
Ingredients
Edit
bacon, thick and sliced, 36 oz.
cranberries, dried 6 oz.
4 tablespoons water, hot or lukewarm only
mozzarella cheese, shredded, 30 oz.
blue cheese, crumbled, 30 oz.
Simplot Classic Skin-on potato boats, 96 oz.
chives, fresh and chopped for garnishing
ranch dressing, prepared, 72 fl. oz.
Directions
Edit
Place the bacon in a single layer on a parchment paper lined sheet pan. Cook bacon for 12-15 minutes in a preheated 375° F oven.
Drain grease and crumble the bacon; reserve.
Place dried cranberries in a small sauté pan with water and simmer until almost all the liquid is absorbed.
In a bowl, toss the mozzarella with the blue cheese until well blended.
Fry the Simplot Classic Skin-on potato boats in a fryer at 350° F for 5 ½ minutes; drain.
For each serving, place 4 prepared Simplot Classic Skin-on potato boats on a sheet pan, sprinkle with 2 oz. of cheese blend, ½ oz. of bacon, and ½ oz. of cranberries, and top with ½ oz. cheese.
Place the pan under a salamander or in a hot oven until the cheese melts. Sprinkle with the chopped chives.
Transfer to a serving plate along with 3 oz. of ranch dressing. Serve warm and plain or with other appetizers or vegetables.
Community content is available under
CC-BY-SA
unless otherwise noted.