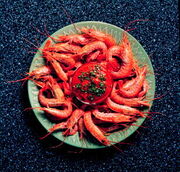 Description
This recipe is for 4 serves.
Ingredients
8 x Tiger prawns, (cleaned, shelled and deveined) with tails
3 x Eggs, beaten
Seasoned flour as required
75 gm Cheese, grated
4 tbl Finely chopped Spring Onion, (60 g.)
2 tbl Green Garlic, (30 g.)
2 tbl Parsley, chopped fine (30 g.)
1 x Lettuce
2 x Tomatoes, chopped (200 g.)
Directions
Dry the tiger prawns with tail with a kitchen napkin.
Remove from oil.
Add the grated Cheese on top.