Ingredients
[
]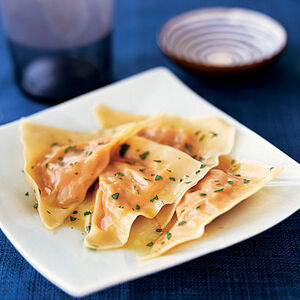 Ravioli Filling
[
]
Pasta
[
]
Make your own pasta using our "Down & Dirty Pasta Dough from Scratch Recipe" - Click here! or buy fresh sheets of pasta to stuff your ravioli.
Directions
[
]
Filling
[
]
Cut pumpkin into chunks and drizzle with olive oil.
Sprinkle with salt.
Roast at 350 °F until pumpkin is soft. Allow to cool.
Scoop pumpkin out of its shell into a bowl.
Add a handful of grated parmesan cheese, nutmeg, salt & pepper. (If you like you can add ground cloves or ginger - any spice you like to give it that fall feel.)
Mix it all up - use to stuff cappelletti, tortellini or ravioli.
Can also be served as a side dish without the pasta.
To stuff pasta
[
]
Roll out a sheet of pasta to about an 1/8 of an inch thickness -the thinner the better.
Evenly space out small mounds of filling.
Lay another sheet of pasta over the top.
With your fingers gently smooth out any air bubbles.
Cut out ravioli - either squares with a pizza knife or ravioli cutter or a shot glass for circular ravioli. Most importantly making sure the sides are closed.
Once pasta is filled, throw into salted boiling water until they float to the top.
Sauce
[
]
In a pan slowly melt a couple of tablespoons of butter & gently fry a handful of sage leaves for 1 - 2 minutes.
Raise the heat, toss in your cooked pasta with a bit of pasta water.
Season with salt and pepper and serve.
To freeze
[
]
Place in a single layer on a sheet pan, then transfer into zip lock bag.