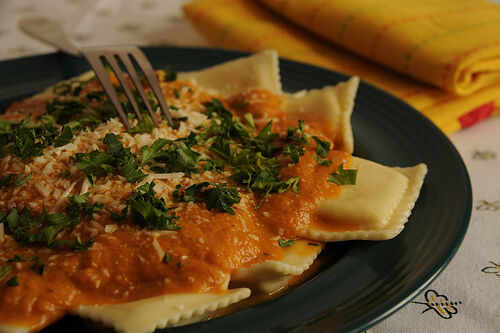 Prep Time: 15 minutes
Cook time: about 90 minutes, largely inactive
Serves: 6-8
Description
[
]
Pumpkin is delicious as a savory ingredient – I love pumpkin curries and soups, so trying a sauce seemed very doable. The flavors of pumpkin and Parmesan are so complimentary – this is a warm and earthy sauce, something new and unexpected on pasta. We served it on cheese ravioli and fell in love with this sauce.
Ingredients
[
]
Directions
[
]
Preheat oven to 450 °F.
Cut pumpkin into large chunks and place on a baking sheet. Spray with oil. Bake at top of oven for 50 to 60 minutes, until fork tender and lightly browned. Remove from oven and let cool. Remove skin and then mash pumpkin, making about 4 cups total mashed.
In a large stockpot over medium high heat, saute onion in butter for about 3 minutes, until translucent. Add in garlic and cook another minute. Add in sage, vinegar, paprika, vegetable stock and mashed pumpkin. Bring to a simmer and simmer on low for 20 minutes. Stir in half and half and turn off heat. Stir in cheese a little at a time, until melted into soup. Blend with a stick blender or blend in batches in a blender.
Serve warm over cooked pasta, with parsley and a little additional cheese as a garnish.
Notes
[
]